BI Framework for Software Vendors


Customers need reliable analytics
The bar is rising. Access to business intelligence analytics and tools are a requirement in today's competitive software application markets. With the BI Framework, you can add business intelligence functionality to your software quicker than ever before. It's a powerful framework – you get over 1000 built-in standard performance metrics plus a structured approach to creating and managing analytics.

Quality requires repeatable processes
As an application provider, you have specific industry knowledge and experience. But when it comes to business intelligence, you need a platform that translates your knowledge into analytics your customers can use. Each customer is slightly different, requiring installation-specific modifications to reflect differences such as product groupings or geographical territories.

The business intelligence component of your solution must be able to create a repeatable process in which the standard components are duplicated across all of your customers. In addition, you need to be able to look at customer-specific modifications and create specific solutions. Because the BI Framework takes a generator approach rather than a fixed schema approach, you can easily add business intelligence to your application. You get the standard analytics required by your market with the ability to tailor your application to each customer.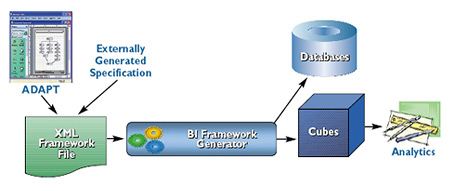 Using either an externally generated specification from your existing software application or our design tool, ADAPT™, the BI Framework writes the application specifications to an XML file. Then using the XML file as input specifications, the BI Framework automatically generates relational and analytical databases, complete with built-in analytics and audit logs of meta and reference data to track application changes. And all as a structured, repeatable process that enforces standards for database design and BI best practices.

To add business intelligence functionality to your software quickly and easily, contact Symmetry.

BI Framework for Software Vendors overview (PDF).
Forget the traditional custom development approach for adding analytics to your software application. Let the Business Intelligence Framework do the work. The BI Framework combines flexible design and development tools for building and managing the analytics of your software application. No more fixed schemas or run time executables. Free up expensive programming resources for other projects and still comply with BI best practices.